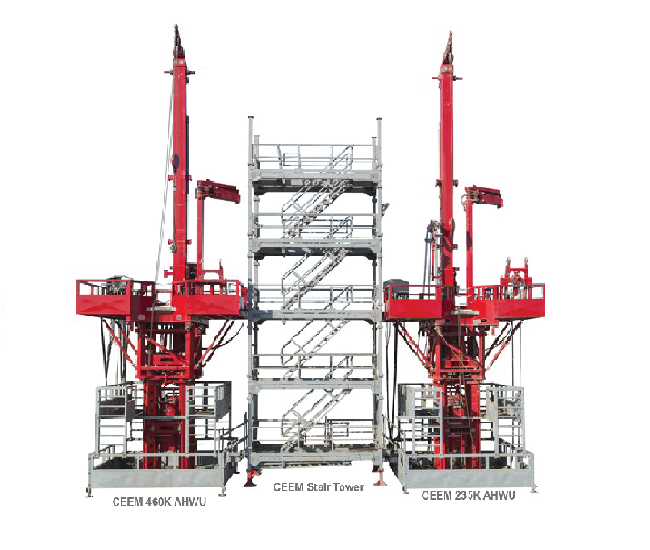 CEEM as a recognized supplier of oilfield equipment has become a solution provider to the oil exploration and production sector. CEEM has routinely implemented improvements to equipment designs and provided operational solutions with specially designed equipment. CEEM offers refurbishment and enhancement services of equipment owned by all of the major HWU suppliers. In doing so it has developed a strong sense of market requirement and has a wealth of knowledge related to HWU services and commercial requirements.
CEEM has now assembled a package consisting of all the advancements made to the hydraulic work-over units as well as bundling of all of the support equipment that has brought success to many projects.
The CEEM 460K AHWU is designed to be rigged up as a stand-alone unit, and to be used for the work over of existing wells Offshore and Land based. The rig is designed to complete all work-over functions completed by a conventional rig with the additional capability of working with pressure in snubbing and under balanced situations. It has great key features that would ensure rig owners to return a maximized profit and productivity level in their operation.
Hydraulic Jack Specifications 
460,000 pounds lift force
230,000 pounds push force
24 inch through bore
HUSCO 6500 control valve
2 leg and 4 leg operation
10 foot stroke
3000 psi working pressure, 3500 psi test pressure
Modular Design
The CEEM 460K AHWU containerized rig achieves its most fundamental profit enhancement by being modular with all components containers sized.
All components within container dimension
All components can be disassembled to achieve a maximum per piece weight of 8 tons
All materials have designated storage or shipping frames within the package to protect them
All components have API lifting eyes for loading, unloading and assembly
Environmental Condition
Minimum water temperature : N/A
Maximum water temperature : N/A
Ambient extreme maximum : (+)50º C
Design temperature. min. (class) : (-)20º C
Atmosphere :Salty & corrosive
Maximum relative humidity : 100%
Design Loads
The CEEM 460K AHWU containerized rig is designed to meet expected operational loads and comply with applicable API guidelines. All steel structures are modeled and verified by FEA prior to building. After construction, materials are proof load tested and NDT completed as required.
HSE
The CEEM 460K AHWU is designed for easy and safe operation. There are four specialized operator consoles within the workbasket. Each console has a minimum of controls specific to the intended task:
Main operators console is located to the farthest point from the hole center allowing a clear view of all operations and eliminating the potential for operations to be conducted outside of the operators line of sight.
Tong panel allows for control of the pressure of the power tongs and shifting of the tongs on and off and diverting hydraulic pressure to the main winch panel this allows the operator to designate operation of these controls to a roughneck as there are no controls other than those for the task located in the panel eliminating the potential for miss operation.
Counterbalance panel is located at the front of the work floor next to the V-door allowing the operator line of sight to the ground as well as to basket operations. All necessary controls for pick up and lay down of tubular are located in this position and the counterbalance operator has full control of the task.
Main winch panel is located at the opposite side of the V-door from the counterbalance and remain un-manned unless in use. When operated a line of site view to the ground and well as basket operations is available. With these controls removed from other control panels, it eliminates the chance of miss operation.
Evacuation and escape routes are arranged with two independent escape ways from the work basket. Stairs can be rigged up on both sides of the AHWU. In the event that space is limited a ladder can be rigged in as a secondary egress.
The CEEM 460K AHWU will be used in the well head area of existing platforms and land based locations.  The rig area is regarded as naturally ventilated area. Hazardous area is based on normal drilling and workover operations. All electrical diesel driven equipment is built in accordance with zoning classifications.
The CEEM 460K AHWU has sound attenuated features to reduce worker exposure. The diesel driven generators are in sound attenuated enclosures. The electric driven hydraulic pumps are in sound attenuated enclosures. Workers will be primarily in work areas that are less than 80 DBA and appropriate signage is present in all areas requiring hearing protection.
The CEEM 460K AHWU has the following advantages compared to a Conventional Rig
No drill line required (no slipping or cutting drill)
Function of mast for lifting single joints of pipe and bottom hole assemblies
Individual component weights can be reduced to 8 tons
Low center of gravity
Unexpected pipe movement maximum 10 feet
Can accommodate any bop stack configuration
Under-balanced operations and snubbing operations integrated
 Small operational footprint
Noise reduced to minimum
The CEEM 460K AHWU has the following advantages compared to a Conventional HWU
Simplified rig up
All parts of the rig are compatible as they have been designed to work in a system
All components are sized to fit in standard shipping containers
All spares and consumables have custom storage to protect the asset until it is required
15 ton main winch for deploying and recovering bottom hole assemblies
Individual component weights can be reduced to 8 tons
Rig components have been simplified in order to utilize less experienced personnel
Equipment has been built with common components used in other standard equipment allowing for purchase from common vendors world wide
Equipment has been built to withstand in field abuse and neglect and require only the most basic maintenance of lubrication and service