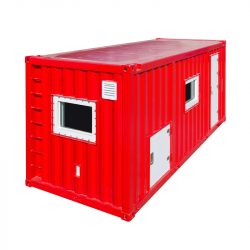 CEEM A60 Cabin
Optimum Efficiency, Safety & Security
The A60 Office Cabin of CEEM FZE is the first of its kind to be manufactured in its facility. CEEM ensures that the equipment meets various manufacturing international design codes and regulatory requirements.
Considered as an oilfield services equipment, A60 Cabin was manufactured to the highest industry standards DNV 2.7-1, DNV 2.7-2 and ATEX, including compliance with SOLAS/IMO regulatory requirements for A60 fire protection to withstand hostile offshore and marine environments.
The equipment is designed for optimum work efficiency, satisfying environmental, acoustic, safety, and security requirements for your peace of mind.
Standard Technical Specification
Dimension: 6058mm (L) x 2438mm (W) x 2592mm (H)
Electrical Input: 380-690V 3 Phase 50/60Hz Electrical Supply
Electrical Cabling: As per DNV 2.7-2
Transformer: 23KVA 6 Tap Transformer (1nos)
Power Outlet Supply: 220v, 110v
HVAC: Packaged AC (2 Ton working and 2 Ton on standby)
Total Cooling Capacity: 24000BTU/h
Total Heating Capacity: 6KW
Operational Temp Range: -20°C to +55°C
Output Voltage: 380v/3P/50/60Hz
CPFG panel: ATEX Approved Exd IIB rated 4 Point Wall mounted
Fully Automatic Fire and Gas Detection & Shutdown System
Automatic Fire Dampers with local indication (fail safe), IS Sounder
Pressurization Fan, Manual Call Point & Pressure Switch
Gas Detectors H2S (1nos) and HC (2nos)
Optical Smoke Detector, Heat Detector and Fire Break Glass
HSE: Fire Extinguishers, First Aid Kit
A60 Fire rated Insulation: wall, roof & floor
Flooring: Floating Floor ( Marine Elastic Self-Leveling underlayment & Vinyl Floor Sheet
A60 Window standard fitted (2nos)
External Doors: A60 weather tight doors (3nos)
Internal Door: B15 rated door from Airlock with A60 rated sight glass
A60 Emergency Escape Hatch
Furniture: Robust Custom Design of Work Desk, Over Head Cabinets and Chairs
Painting: 240DFT three coat of marine painting system
Slings and Shackles: DNV Certified Slings and Shackles with appropriate rating for lifting
CAT 6 Data/Telephone points
Certified PA Speaker
Design and Standards
DNV Approved
ATEX Compliant
Structural Design: DNV 2.7-1
Electrical  Design: DNV 2.7-2
CPFG panel: ATEX Approved Exd IIB rated
SOLAS Compliant
Zone 1 and Zone 2
Area Classification Zone 1
Upgrade and Customizations
Test Cabin, Data Room, Zone 1 / Zone 2 Workshop, Mud Logging Cabin, Well-Site Cabin, Wire Line Support Cabin, Hazardous Material Storage, Ex-rated Telephones, Flat Screen Monitors, UPS, Cabinets and Furniture